The Best Full Color LED Signs
Comes Ready to Go with Everything You Need
Attract More Customers with Vivid Full Color Images and Video
SCROLL ↓ DOWN
Here are 13 Sizes to Choose From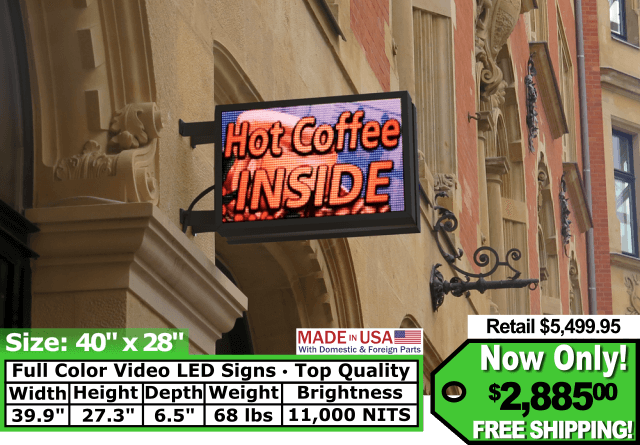 Lowest Prices
Save big when you order a sign directly from us. Just give us a call at 888-885-7740888-885-7740 and we can take your order over the phone.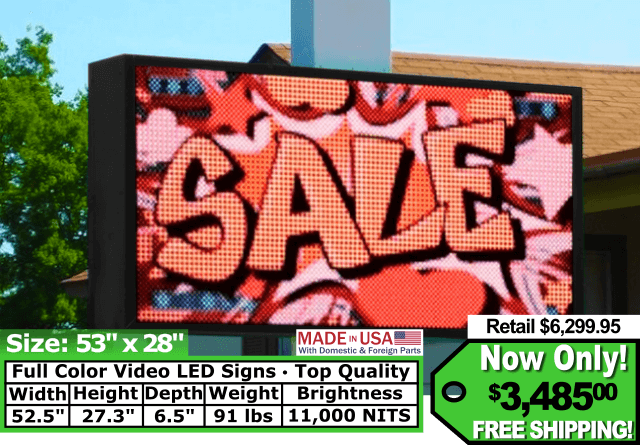 Free Shipping
We ship for free to anywhere in the United States and Canada. Our signs are used in all 50 states and all provinces of Canada.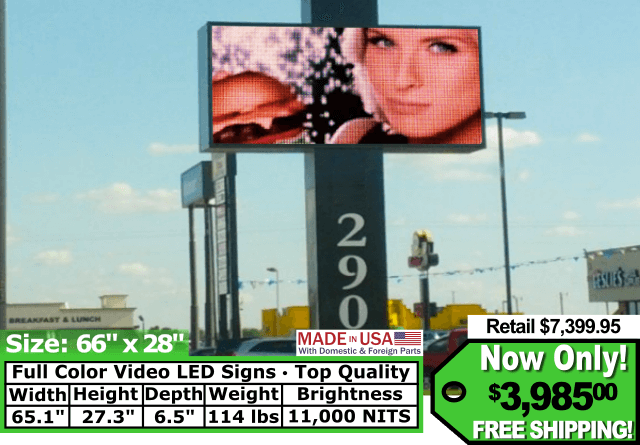 Unbeatable Support
Lifetime technical support, training, and programming help. Experience our unmatched customer service for yourself.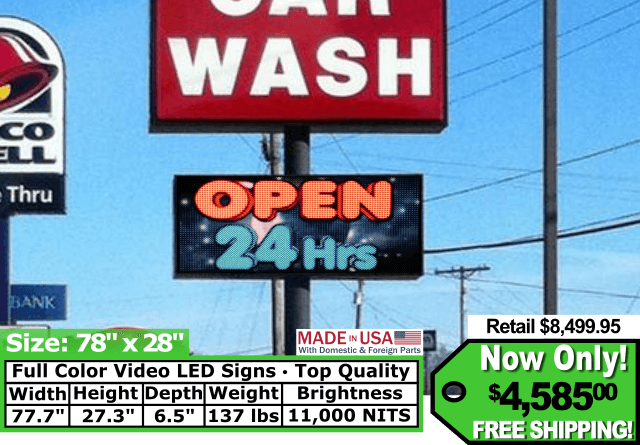 Knowledgeable Staff
Our experts will know exactly which sign works best for your needs. No other company can match our experience and expertise.
Easy to Use Software
Display images, create animations, & design your own advertisements with just a few clicks.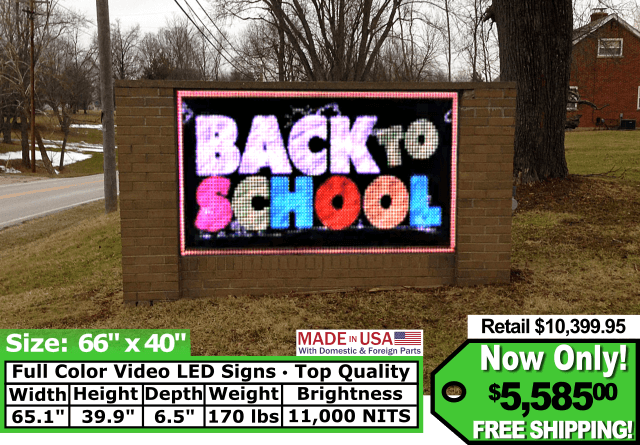 Free Content Library
Instant access to our large selection of colorful ready to use static and animated graphics.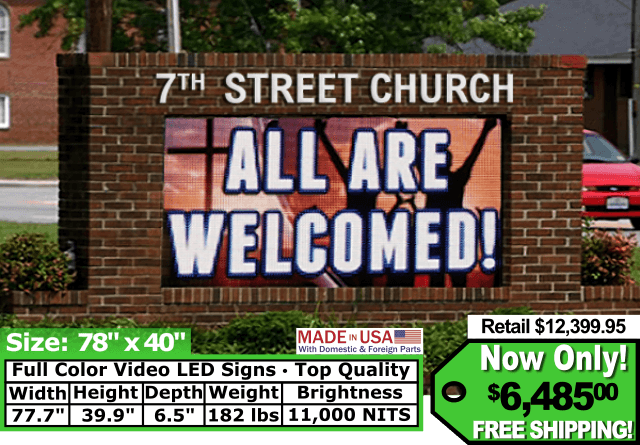 State-of-the-Art Technology
DeltaPSU, EMI Suppression Filters, Linux Controller, Corner Welded Aluminum frame, Line-x Coating, Narrow Bezel, and much more.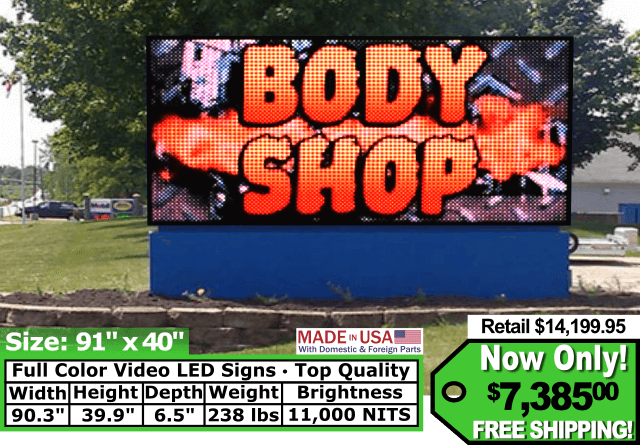 Superior Daylight Visibility
We have the brightest displays at 20x brighter than LED TVs. Order 2 LED signs to display on both sides of a pole or a monument.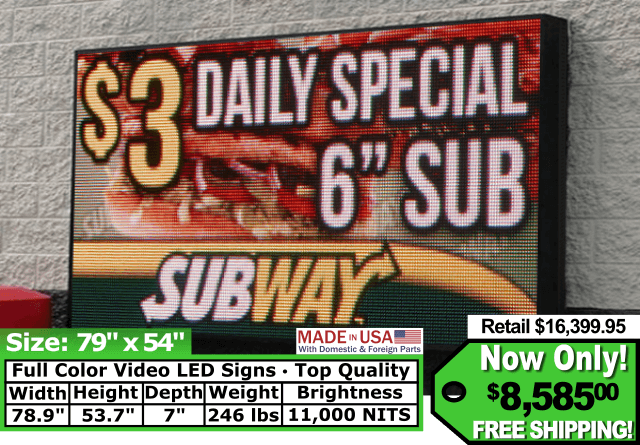 Easy Installation
Just hang it up, power it on, and you're ready to go. Let our technicians do the rest for you free of charge.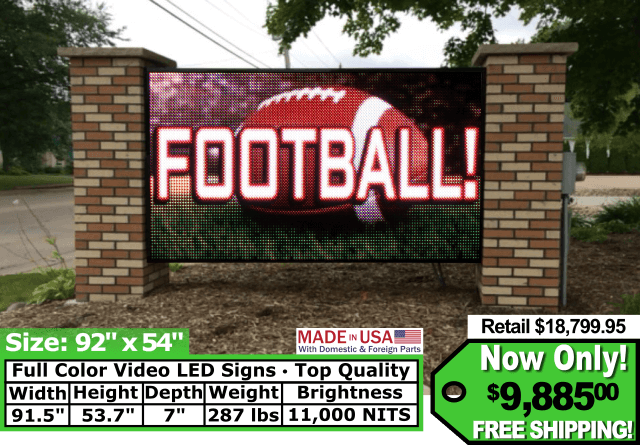 Free Custom Design
Our team of graphic designers will create beautiful custom advertisements specific to your request.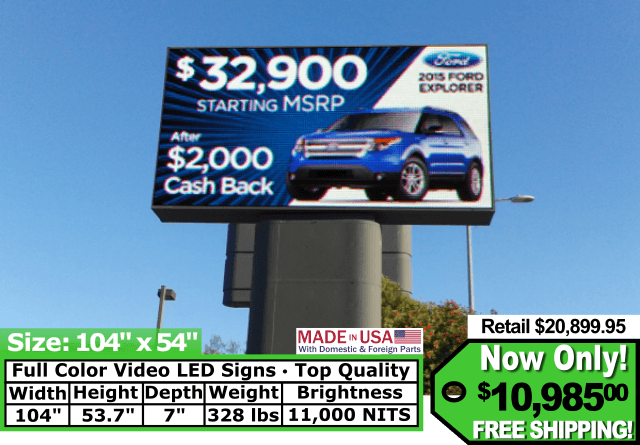 Trusted
For thousands of small businesses, large corporations, and Nonprofits, TV Liquidator continues to be the most reliable option.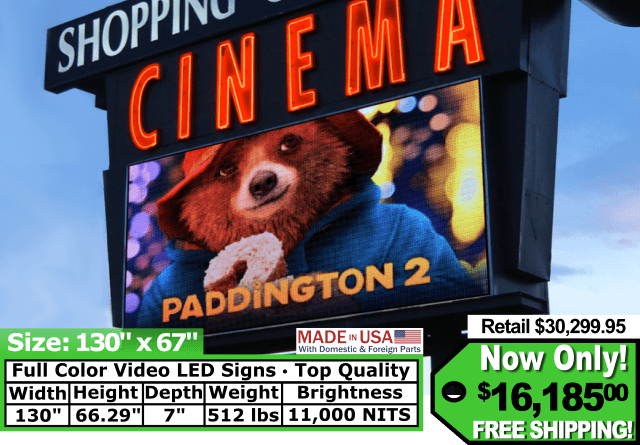 The Industry Leader
We ship LED signs to all types of businesses and goverment locations. No company can match our high quality and low pricing.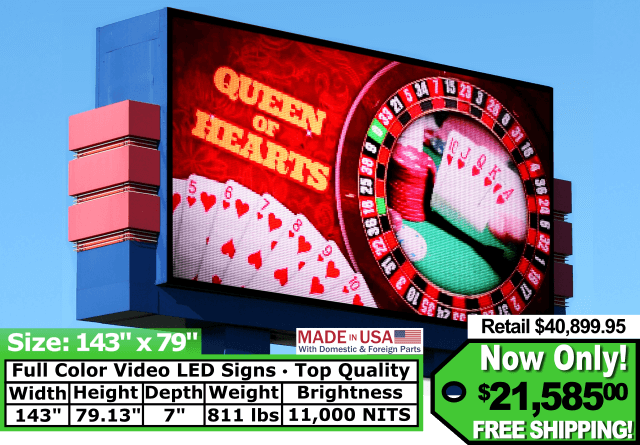 Proud American Company
Our corporate offices, showroom, manufacturing and shipping facilities are located in Los Angeles, California.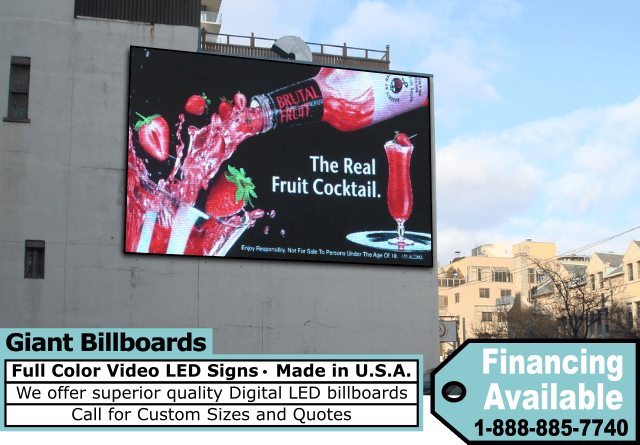 We Do It All
We know digital signage. Small or Large, inside or out, we have it covered. We can help you with anything you need.

Free Set Up
We take the guess work out of it. Let our team get it done for you.

Free Training
Our experts will have you using your sign like a pro in no time.

Free Support
Ongoing customer support will keep your sign up, running and looking great.

Free 5 Year Warranty
Our signs are built to last. If you leave them on 24 hours a day 7 days a week, they'll work great for at least 11 years maintenance free. We have the best warranty in the industry. It covers all parts and factory labor. We have free lifetime telephone technical and programming support. Every sign is built in Los Angeles with strict quality control and diligent craftsmanship. They are inspected and completely tested before delivery to our customers. more

281 Trillion Colors
With our high-contrast modules and brighter LED's, our signs produce the most brilliant, vivid and vibrant displays available. 281 Trillion Colors with 16-bit Video Processing will prevent the color banding and color loss you will find with the 16 million color 8-bit displays. We use only the best Series-A diodes in our full color displays. Creating images, animation, and video that can be seen in any lighting condition. Sign Specifications.

USA and Canada Certifications
All of our LED Signs are Made in the USA with domestic and foreign parts. They're Metlab Certified, FCC Compliant, UL Compliant and CSA Compliant. Unlike most of the other LED signs and sign companies, we are not relying on Chinese engineering or simply just assembling cheaply made Chinese parts. Our signs are designed here in the USA and we use only the highest quality components. Our signs come with a proof of certification label with a corresponding serial number which helps to verify that your sign is safe and meets local requirements.

Newest Technology and Features
Upload your own images, animations, video, audio, tables, and text. Display date, time, countdown clock and stop watch. Use built in text editor. Schedule ads to display at certain dates and times. Control your sign remotely from anywhere. Synchronous and asynchronous programming available. Display your messages in almost any language. XM player software is included for easy programming. WiFi options are available with our long range Wireless Antenna system. Temperature sensor/auto-dimmer is optional.

Easy to Install
Comes ready to go with no assembly required. Built in mounting brackets and installation guide included. Easily attach to walls, posts, poles, and just about anything else. Our signs are fully self-contained, fully weatherproof and there is no need to build a cabinet. Our strong yet light weight design will help make even the tallest and toughest installations a breeze. Environmentally responsible with very low power usage. Save energy and save money. Connects to regular 110 volt power. Order 2 signs to display on both sides of a pole or a monument.

Industrial Grade and Weatherproof
The best front accessible design with individual unlocking static duty IP 67 encapsulated panels. Our seamless frame design is far superior to the cheap A-Frame or clamshell type that you will see all over the internet. The all aluminum frame is precision mitred, corner welded and finished with a Line-X coating. This is a new level of weatherproof. We use full size 320mm x 320mm modules that require half the number of connections than those of our competitors. Strict quality control with top craftsmanship. They're modern, sleek and quiet.
Thousands of Happy Customers
★★★★★
See Our Customers in All 50 States and Canada
Free Shipping in USA & Canada

Open Monday - Friday 7:30 AM - 5:00 PM PST
Call with credit card or fax check to 424-298-8490 or email check to info@tvliquidator.com or mail check to
TV Liquidator 5801 West Jefferson Blvd.
Los Angeles, California 90016