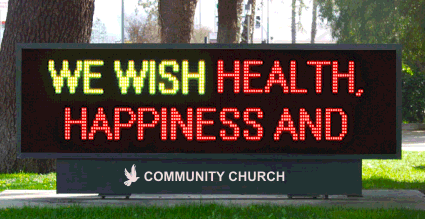 Lowest Prices
- We are able to offer the lowest prices on brand new high quality LED signs because of our massive sales volume. We sell thousands of signs to thousands of organizations.
We're also a major supplier to over a thousand sign companies across the USA and Canada. They sell our signs for almost double our prices.
There are many companies that sell lower quality signs and their prices are much higher than ours. You'll save money when you order a sign directly from us and have a handyman install it. We do not charge sales tax for customers outside of California and shipping is free. So the low prices that are shown on this website are the total prices.
Free Shipping in The USA
- We are a proud American company. Our corporate offices, showroom, manufacturing and shipping facilities are located in Los Angeles, California. We also manufacture and ship from Dallas, Texas. We are one of the only digital signage companies that crate and ship for free to anywhere in the United States

. Most companies will charge you between $200.00 to $550.00 per sign to crate and ship depending on the size, because that's what it really costs. We do it all for free and offer the lowest prices on LED signs.
We keep a huge inventory of LED signs. Everything is in stock and ready to ship in 1 or 2 business days.

Best Customer Service
- Call
888-885-7740
888-885-7740
or email
info@tvliquidator.com
.
We take all orders over the phone so we can make sure our customers are satisfied and get exactly what they need. You can pay by credit card, debit card, Paypal or check. For speed and convenience you can just email a picture of your completed check without having to mail it.
Our team of digital signage experts are also computer technicians. They are the best in the business. They can answer all of your questions. We have free lifetime telephone technical support. We want to help you improve your business. We take care of our customers.
Trusted Industry Leader
- No other company can match our quality, price, service and expertise.
That's why we are the only reputable digital signage company that posts prices on our website.
Some companies will quote prices based on the sound of your voice. There are many unreliable companies that sell inferior products that do not meet local requirements. We are always making upgrades to our products. We strive for perfection. They're getting better all the time. Everyday we ship LED signs to every type of business and all kinds of government locations throughout North America. They trust and depend on us.