TV Liquidator Customer Reviews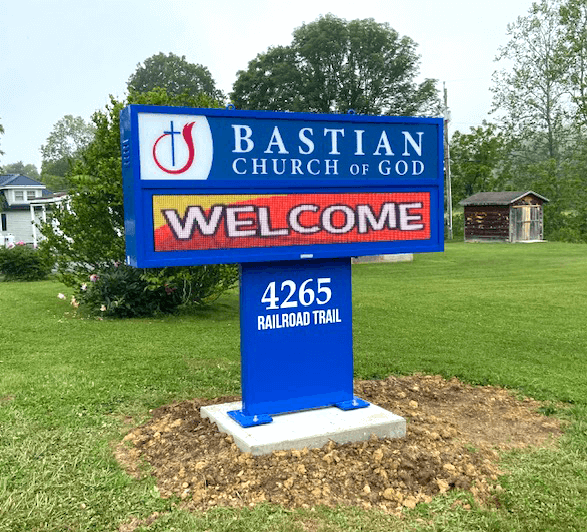 Bastian Church Of God



We love it!!
Here is our sign that we just got put up. It is going to be perfect for us. Just wanted you all to see the finished product.

Thank you so much,

Pastor Cliff Bowman
Bastian Church Of God
Bastian, Virginia

---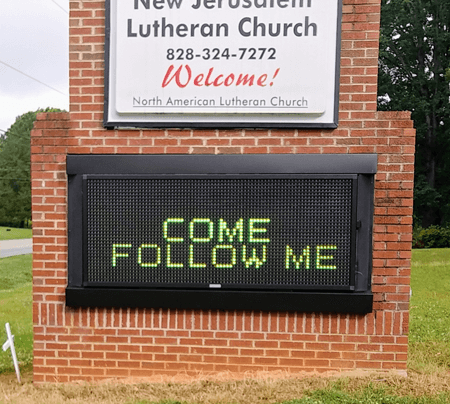 New Jerusalem Lutheran Church



Hey Chris,
It's been a few weeks now since we went on line with our new signs at New Jerusalem Lutheran Church in Hickory, NC and I thought I'd let you know how happy we are with your product. Had to call Reina a few times for some help and spoke to Edward once or twice for clarification and some advanced training. Both were great to talk to, very knowledgeable and when she didn't know an answer she got someone who did. That said, so far the message centers are doing great. Hopefully will give us many years of service.

I wanted to thank you personally for all your help at the beginning. Your input actually sold the product. I've taken the time to compare other churches signs in our area and they just aren't as good in brightness, readability, functionality or as I found out, price.

Thanks to you and your staff for a job well done,

Mike Scipione
New Jerusalem Lutheran Church
Hickory, North Carolina

---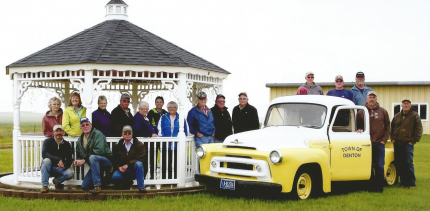 Denton Lions Club



Christopher,
Thank you for the help this morning. The Denton Lions Club purchased this sign in 2018. We are a small rural town in Montana. Our winters can be very cold, snowy, and windy. Our seasonal temperatures can range from -40 to 100. We have a double sided sign that is mounted to poles, next to the main street. It is not mounted to a building and experiences a lot of wind. Our sign has performed very well under these conditions.

I would strongly recommend this sign to anyone. We are very pleased with it!

Thanks again,

Russ Allen
Denton Lions Club
Denton, Montana

---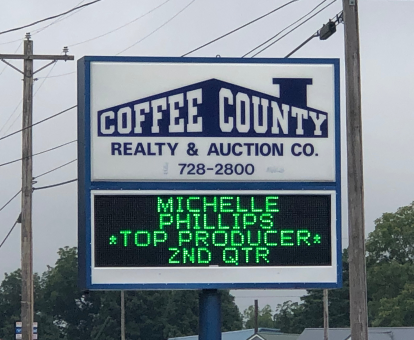 Coffee County Realty



Christopher,
Just wanted to let you know we are so happy with our two digital signs we recently ordered. We installed one at our Manchester Office and one at our Tullahoma, TN locations. They were very easy to install and are working perfect. Our secretary was able to pick up on programing the signs in just a few minutes. It is so much better than dragging a 12 foot ladder out and changing the old sign by hand. Also much safer!!

We appreciate the professionalism you guys have shown through out this process. I would highly recommend your company to anyone needing a digital sign.

Thanks again,

Jimmy Jernigan
Owner/ Broker
Coffee County Realty
Manchester, Tennessee

---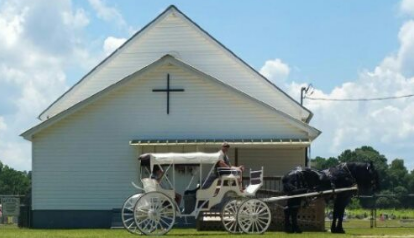 Rock Hill Church



To TV Liquidator,
Our church bought two of the signs size 69" × 36" and we have them up and running. Best signs we have ever had, no more letters flying off the board.

Thank you and God bless,

Garry L Barnes
Senior Pastor of Rock Hill Church
Cottondale, Florida

---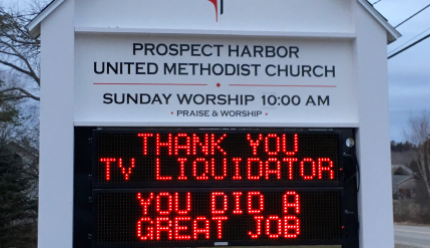 Prospect Harbor United Methodist Church



Hi,
just sending a picture of our almost completed sign with your LED displays. We just need to tidy up the grounds a little bit and get a electrician to run an underground conduit. Your signs came through with flying colors. We received a lot of compliments and inquiries to how we did this.

Thank you again and feel free to use the picture in your advertising.

Mark Sobczak
PHUMC Trustee
Prospect Harbor, Maine USA

---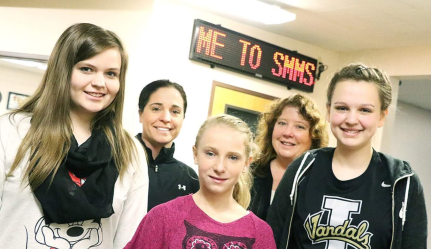 St. Maries Middle School



Hello,
We are very proud of our new sign! It looks amazing! The kids are very excited about it and stop to read the messages between classes. It has been mounted in our St. Maries Middle School hallway above the entrance to our office. A photo of it was featured in our local newspaper last week.

Thank you!

Cindy Willard
St. Maries Middle School
St. Maries, Idaho

---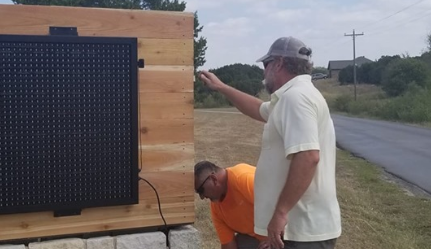 Canyon Creek POA



Hi,
Thanks for the great communication, quick shipping, and wonderful customer service. The 69 x 36 sign fulfills our marketing needs.

Thanks again,

Jimmy Kinnamon
Canyon Creek POA
Granbury, Texas

---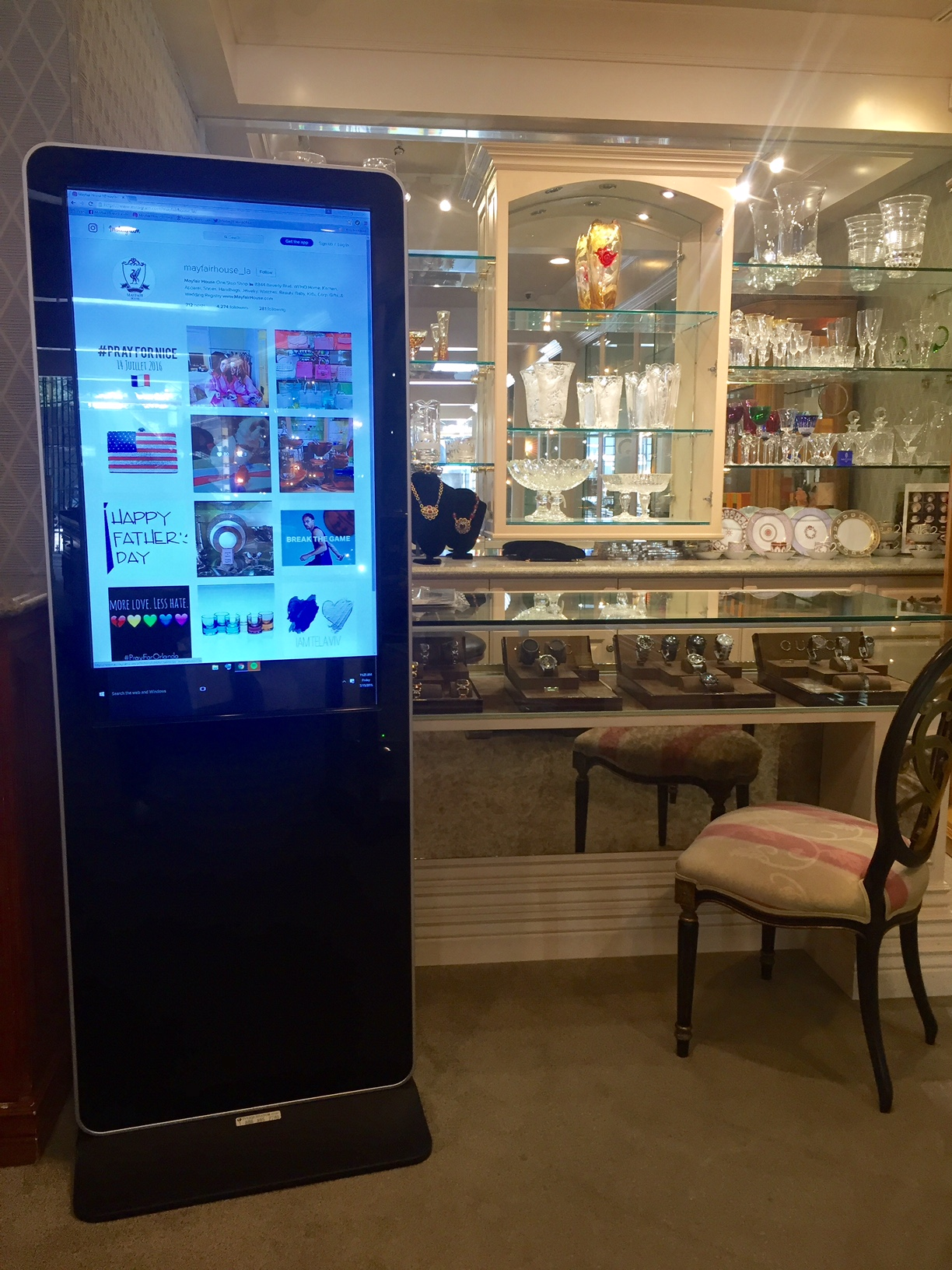 Mayfair House



Hello TV Liquidator,

All of us at Mayfair House are thrilled with our Touch Screen Kiosk purchase from you. You were absolutely on point…it has proven itself as a very valuable selling tool! Our customers and brides love being able to manipulate the kiosk themselves, and its hysterical watching the thrill they get from interacting with the touch-screen. It has more than paid for itself…we are able to showcase products that we couldn't possibly fit on our shelves, and now, our customers are able to register and purchase items by using the kiosk in our store! We also have been using it for product educational videos, and at night, the stunning display showcases our Instagram to all the passing traffic. Almost every brand representative that has visited our store has asked for information on this to pass on to other clients. We really appreciate how easy it was to work with you from order to delivery…thank you so much!

Appreciatively Yours,

Ben Naples
Store Manager
West Hollywood, California
---
Gary Brown, YellowBox Burgers & Shakes, AR

5 stars! Sign arrived quickly in perfect condition, easy to program within moments. Great quality! Great value!
Josh Wilson, Polaris World. Littlefield, AZ

After 50 years of our family business having digital display boards at multiple locations, I can testify that TV liquidator product is superior to the other brands that we have in regards to Price and Manufacture quality. It's not just the product that is great, the service team was a just phone call away when we got hit by lighting... 6 stars if possible!
Jerry Bower, Commander VFW post 7537

We are a small VFW club in Newton Illinois. Just wanted to let you know we received our new LED sign quickly. It was easy to hang and set up. We have had a lot of positive comments on it and we believe it has helped us increase our business. In fact the local American Legion wanted your info and they now have one too!!! Customer service is also great. Thank you Edward.
Alexis Switzer, AAA Valley Fire Equip Inc. Hammond, IN

Edward is fantastic! He was very helpful and answered any questions that we had! We love our sign and couldn't be happier! Amazing sign and amazing customer service!
Michael Riddle, Cafe SJ7. Saint James, NY

These LED signs are the real deal! We love them! Don't buy from anyone else you will not be disappointed with tvliquidator quality! Honestly!
Randall McKay, Daleys BrandSource Home Furnishings. Fredericton, NB, Canada

I was pleasantly surprised all the way through the process with this company! Most of all I am very impressed with the clarity and color of the sign! I was blown away when we turned it on. It is clearer, and brighter than many of the signs that I have looked at from the major brand names who are supposed to be the best. It also cost significantly less money. This sign came in at approximately just over one third the cost of the majors. The after sales support is fantastic, and to me that is very important. Chris was instrumental in educating me in sign technology. BTW dont be put off by the pictures online, an LED picture doesnt photograph well, but they sure look good in real life! We will be back for another sign next year.
Jack Mageluzzo. VFW Port Lavaca, TX

Best prices around and good customer service. Our VFW Post got one a few months back and installed it within a week, a well built sign.
Gabrielle Hopkins, Food Diva Food Truck. Chandler, AZ

The friendliest staff helped me to select the right size LED light for my purpose. So far I've purchased 2 lights, and working on purchasing more LED lights, as they work well in attracting customers for my restaurant. Thank you Chris!
Sheila Pearse

We purchased 2 large signs from here and are very impressed. They are easy to program and are very bright. I highly recommend them. I also dealt with Edward who went out of his way to ensure we got exactly what we wanted.
Rue E.

We are very happy with the LED signs that we bought for our school from TV Liquidator. The signs are bright and simple to operate. Their prices are much lower than what our local sign stores sell them for. The people on the phone are nice and very helpful. We use our signs to keep our kids, parents and staff informed.
Mary K.

Wow these signs are impressive! When I got stuck trying to change an effect on the sign, I called them and the gentleman that helped me was very patient with me and happy to help. You don't see service like that nowadays so I had to write a review. Once he showed me how to do it, it was very simple to do on the remote control. My new sign is in my window and I am so proud of it. Thank you TV Liquidator!
Elsa H.

We bought signs for both of our furniture stores in Hawaii from TV Liquidator. Their signs are great because they pull in a lot of customers. They're so clear and easy to read from the street all our customers compliment on how they got their attention! Even though we're in Hawaii they shipped them fast and free which was very cool.
Jason Borgen. VFW Catskill, NY

David, received our sign today. It works great and we already have it installed! Thank you!
Kathleen Martinez

I recently bought a full color LED sign from TV Liquidator. At first I needed help putting my logo on it so I called and they walked me right through it! It looks so beautiful :) Also made my neighboring businesses and little jealous.
Chris James

Their staff seemed to know more about LED signs than any other sign company I contacted. I ordered the 85" x 20". It is the perfect size for my business. The programming was about as easy as it gets. Their sign looks so much brighter and clearer than the other signs in my area. Thank you TV Liquidator.
Cristen Carlson

Extremely professional, clearly dedicated to customer service when I had an issue. Very good company! Thank you again from Illinois.
Dream Many Times

These guys were very knowledgeable about answering my questions and helping me select the right sign for my business. Very good customer service.
DJDirty Bluestone

Most affordable & capable unit I found in research. Delivered on time & we are very satisfied with it's operation. Eye catchy graphics & very user friendly. Very satisfied.
---
UNITED STATES POSTAL SERVICE PURCHASED 150 SIGNS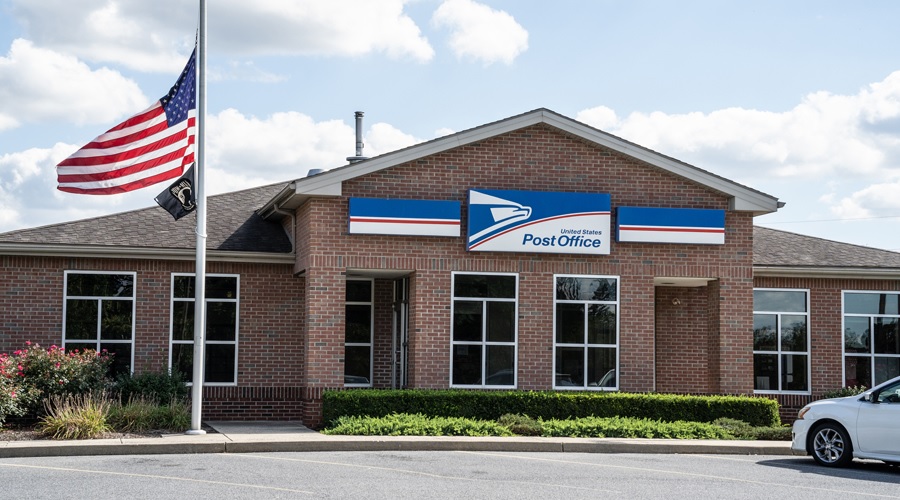 The United States Postal Service, better known as USPS has been a loyal customer of ours over the past few years. They have purchased over 150 LED signs and several touch screen computer kiosks from us for their various vehicle maintenance centers. Our signs have been used to digitize their service stations, and create a better workflow with useful messages and statuses over their bays. They have also used our kiosks as a bulletin boards and information centers for their employees. What once started as a single test purchase has expanded into a good business relationship of trust and growth. We also sell LED signs to FedEx and UPS.
---
LOVES & SPEEDCO PURCHASED 900 SIGNS FROM US

One of our best customers is Loves Travel Stops and Country Stores. They have purchased over 900 led signs from us for their Loves and Speedco gas stations. They have over 500 locations nationwide. They have 27,000 employees and do over 20 billion in sales annually.
Loves knows how to use visual advertising. They prominently place their logo on the front left shoulder on all the NBAs Oklahoma City Thunder jerseys. Loves is very happy with the effectiveness and dependability of our LED signs. TV Liquidator LED signs are one of the most efficient ways to advertise and increase sales at any type of business.
---
Our customers are large corporations, small businesses and government agencies. They include thousands of stores, hotels, churches, schools and all types of businesses. We also sell thousands of digital signs and displays to sign retailers for resale. Everyone loves our digital signage products. They are very effective and can bring success to anyone in any industry.