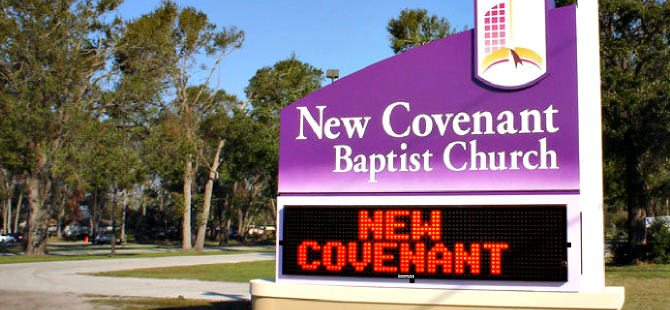 TV Liquidator has been helping Churches across the United States and Canada update their form of communication to their community with a Scrolling LED Sign. Instead of constantly changing letters on their old pylon sign to inform the congregation, they can now easily change their messages with a click of a button on the wireless remote control. LED Signs use the latest technology that allows you to reach your community in multiple ways while saving you time and money.
With the ability to display up to 99 messages, Churches have been able to inform their members of upcoming events, bible studies, meeting times and services. Everyone in their community will notice the scrolling, bright moving messages along with the 300 animations and effects churches love to use such as: Multiple images of the Christian cross, the bible, the rising sun and the American flag.
Create an exciting, unified, communication network throughout your religious facilities or campus. Use LED displays outdoors on facility monuments, roadside pylons, parking lots, and walkways between buildings. Our Scrolling LED signs are designed to be cost conscious and energy efficient to keep your costs low and your influence high.