TV Liquidator is an American sign company that is known for their superb customer service. Going above and beyond for their customers is a standard practice that is expressed in not only their service, but the exquisite build of their signs. They are experts in the field of digital signage that will ensure that you get the perfect sign for your business or organization. Their customers are always comforted in knowing that they provide unlimited technical and programming support for as long as they own the sign.

TV Liquidator has sold thousands of signs to businesses and organizations all across the US and Canada. They also help supply sign stores nationwide. No matter what your establishment does, TV liquidator has a solution for you. They have supplied everyone from government agencies, to national food chains, and mom and pop shops. It is their goal to ensure that any business regardless of size can have a high quality, but affordable LED sign. They also supply kiosks and window signs as well!

TV Liquidator's most frequent customer is Loves Travels Stops & Country Stores. They have modernized the gas station industry by adding two LED signs to each location. Loves gas stations are all across the nation so if you have a Loves Travel Stops by you, stop by to look at their impressive digital signs.

You could also ask Cindy Willard from St. Maries Middle School in St. Maries Idaho, who stated, "We are very proud of our new sign! It looks amazing! The kids are very excited about it and stop to read the messages between classes. It has been mounted in our St. Maries Middle School hallway above the entrance to our office. A photo of it was featured in our local newspaper last week."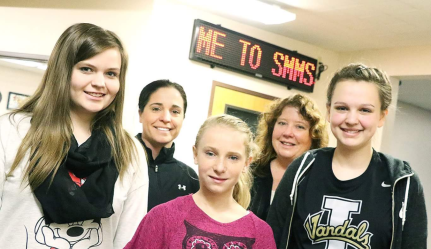 (Picture of students from St. Maries Middle School with their digital sign).
Another happy customer, Mark Sobczak, from Prospect Harbor United Methodist Church in Prospect Harbor, Maine said, "…Your signs came through with flying colors. We received a lot of compliments and inquiries to how we did this."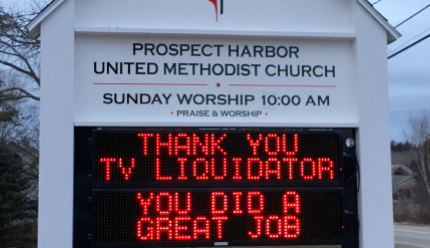 (Image of Prospect Harbor United Methodist Church)
Another pleased customer of TV Liquidator is Kathleen Martinez, who wrote a recent 5 star review stating, "I recently bought a full color LED sign from TV Liquidator. At first I needed help putting my logo on it so I called and they walked me right through it! It looks so beautiful 🙂 also made my neighboring businesses and little jealous."
Businesses that have flourished from their top quality LED sign keep praising TV Liquidator. Another business, Dream Many Times, posted on google saying, "These guys were very knowledgable about answering my questions and helping me select the right sign for my business. Very good customer service."
Not only are they industry leader in digital signs, but no other company can come close to matching their expertise. You can click here to get a glimpse of customers they have serviced in your state!

Alabama
North Star Volunteer Fire Department
Riverside Assisted Living
Smart Bus
Ninilchik Cabins & RV Park
The Place Motel & Bar
more…

Alaska
North Star Volunteer Fire Department
Alyeska Pipeline Service Company
Native Tribal Health Consortium
Ninilchik Cabins & RV park
Native Village of Kluti-Kaah
more…

Arizona
The University of Arizona
Grand Canyon West Skywalker
City of Miami Town Hall
Desert Harbor Activity Association
Buena Vista Mail Center
more…

Arkansas
De Valls Bluff City Hall
Brinkley School District
Creative Engineering Consultants
Greater St. Paul Baptist Church
Arnold Fireworks Inc
more…

California
United States Postal Service – 51 Signs
Naval Special Warfare Center
Palm Springs International Airport
Palm Springs Aviation Department
Federal Bureau of Prisons
more…
Colorado
University of Colorado
Rocky Vista University
Monte Vista City Hall
Penrose Volunteer Fire Department
Security Fire Protection District
more…

Connecticut
Pepsi Beverage Company
Quassy Amusement Park
New Haven Academy of Arts
Foresters of America
ADT Automotive
more…

Delaware
Town of Georgetown City Hall
Walmart Transportation
Chiro-Med Chiropractic
K&K Gas & Deli
Beaver Branch Florist
more…

Florida
General Electric
United States Coast Guard
Highbanks Marina & Camp Resort
Pasco County Transfer Station
Townes Institute of Science & Technology
more…

Georgia
Delta Airlines – Mcdonough
U.S. Army – Fort Gordon
Southern Nuclear Company
Savannah Air National Guard Base
United by Faith Baptist Church
more…

Hawaii
SYCO
Tripler Army Medical Center
Spa Luna Holistic School
Vapor Tech Hawaii
Kauai Kookie
more…

Idaho
Bear Country Inn
All-States Manufacturing & Distributing
Weiser Idaho Senior Center
Warpath Tribal Corporation
J.A. Bertsch Heating & Cooling
more…

Illinois
Chicago Cubs – Wrigley Field
Waconda Area Library
Door Specialty Company
Rustoleum Corporation
Corner Tavern – Murphysboro
more…

Indiana
Warrick County Museum
Montezuma City Hall
Fraternal Order of Eagles Post 3760
Indy Mobile Auto & Truck Repair
Beech Creek Township
more…

Iowa
Everly Brothers Childhood Home Museum
Tripoli City Hall
Richland City Hall
Columbus City Hall
Merill City Hall
more…

Kansas
Concordia City Hall
Garland Fire Department
Garden Plain City Hall
US Center Motel & Apartments
Westside Free Will Baptist Church
more…

Kentucky
City of Fleming Police Department
Sacramento Fire Department
City of Taylor Mill
McKell Elementary School
Buena Vista Baptist Church
more…

Louisiana
Coca-Cola Bottling Company – Monroe
Union Pacific Railroad
Laplace Discount Gas Station
Asension Community Theatre
Iverstine Farms Butcher
more…

Maine
Katahdin Inn & Suites
Machiasport City Hall
Mariaville City Hall
Maine Construction Group
Riverside Golf Course
more…
Maryland
US Naval Academy – DOD Police
City Hall of Gaithersburg
Town of Brentwood
Trident Security Group
Deep Creek Beverage
more…

Massachusetts
St. Francis Xavier School
Entergy Nuclear Operations
Newburyport Realty Group
Integrity Tax Services
Provincetown City Hall
more…

Michigan
Michigan State University
Ionia Public Schools
Papa Johns – Dundee
Mopec Medical Supplies
Masons Dutcher Lodge Post 193
more…

Minnesota
US Steel Corp
Delta Airlines
Travelers Country Club
3M Company
Sherwood Forest Campground
more…

Mississippi
Make A Wish Foundation – Southaven
Newsom Affordable Cabinets
Knights Deer Processing & Meat
Bags & Beyond
Dixie Iron Company
more…

Missouri
Owensville Middle School
8th Circuit U.S. Court Appeals
Sugar Creek City Hall
Fraternal Order of Eagles Post 3917
Forest City Town Hall
more…
Montana
Lincoln County Campus – FVCC
Darby Volunteer Fire Department
Veteran of Foreign Wars Post 276
The Wardin Inn – Deer Lodge
Camp Barkalot
more…

Nebraska
Offutt Air Force Base
North Omaha Area Health
Brewster United Church of Christ
Clarkson Opera House
O'Neil Auto Supply
more…
Nevada
Nevada Nugget Casino
Valley Bank of Nevada
Knotty Pine Restaurant & Lounge
Vista Medical Associates
Florida Canyon Mining Group
more…

New Hampshire
Lindt Chocolate
Epsom Central School
Keene Mini Storage
Route 77 Motors
Thomson Timber Harvesting & Trucking
more…

New Jersey
Secaucus High School
US Army, Picatinny Arsenal
Logan Volunteer Fire Department
Podiatry Center of New Jersey
Parsippany Police Department
more…

New Mexico
Social Security Administration
Los Alamos National Laboratory
Village of Ruidoso
Bernalillo Church of Christ
Desert Rose Four Corners RV Park
more…
New York
Hofstra University
JFK International Airport
NYPD Chief of Detectives
Town of Lumberland Museum
Town of Providence
more…

North Carolina
Ashe Memorial Hospital
Navassa Police Department
Town of Lansing City Hall
Varnamtown Town Hall
Town of East Spencer
more…

North Dakota
Enchanted Castle Hotel
Thompson Fire Department
Hurley's
Bethel Lutheran Church
Surrey Senior Citizen Center
more…

Ohio
Kent State University
Village of New Riegal Fire Department
Perry Village Police Department
Village of Ohio City
Union of Steel Workers Local 912
more…

Oklahoma
Eastern Oklahoma State College
Maysville City Hall
City of Tulsa Town Hall
New Home Baptist Church – Blanchard
Nescatunga Fire Department
more…

Oregon
The Cove Palisades State Park
National Frozen Foods Corporation
Harrisburg Elementary School
Fairview Rural Fire Department
Milton Freewater Neighborhood Senior
more…

Pennsylvania
US Air Force 911th Airlift Wing
QRS Music Technologies – 39 Kiosks
Newport Township Municipal
Rush Volunteer Fire Department
Salem Public Library
more…

Rhode Island
Central High School
North East Autobody
Rossi Auto Care
Tony & Sons Auto Service
Honest Mechanix
more…

South Carolina
Charter Oak Storage
Town of Ninety Six Police Department
Eagle Construction & Contracting
Holley's Convenience Stores
The Wando River Marina
more…

South Dakota
Rushmore Tramway Adventures
Akaska Community Center
Stone Hill Taxidermy
Lakeview Mennonite Church
Changing Spaces Consignment
more…
Tennessee
Tennessee Valley Power Plant
Creative Wonders Learning Academy
Veterans of Foreign Wars Post 8779
City of Jellico
Star Food & Mart – Selmer
more…

Texas
The National Weather Service
Social Security Administration – Tyler
Sam Houston University
Union Pacific Railroad – Houston
Harris County Courthouse
more…

Utah
Hill Airforce Base
Wagons West RV Park
Alpine Forest Lodge
Prospector Inn Hotel
Bath Planet
more…

Vermont
GE Aviation
Central Vermont Medical Center
Mountain View Baptist Church
Our Lady of Seven Dolors
Veteran of Foreign Wars Post 790
more…

Virginia
USS George Washington
Chester Field County Public School
Neptune's Land & Sea Restaurant
Cartersville Virginia Ruritan
XTP Training Facility
more…

Washington
Coca Cola Bottling Co.
Indian Trail Services Center
Mint Calley Elementary School
Snohomish County Fire Dist 19
Veteran of Foreign Wars Post 3207
more…

Washington DC
Washington Center for Greenpeace
Agile Printing
Atlantic Travel & Limousine
South East Christian Fellowship
TG Cigar Lounge
more…

West Virginia
Sherrard Auction Company
Keyser City Filtration Plant
Triadelthia Volunteer Fire Department
1st Southern Baptist Church – Craigsville
Elk Valley Advent Christian Church
more…

Wisconsin
Town of Stephenson
Village of Eastman County
Tri County Area School District
Agricultural Heritage Resources
Indian Motorcycle of Metro Milwaukee
more…

Wyoming
Glendo Town Hall
Mountain Valley Gallery
Grease Monkey Auto Repair
Western D. Ring Services
Oil X-Change – Gillette
more…

Canada
Village of Granisle Town Hall
Robson Raspberry Improvement District
Baccalieu Lions Club
Township of Alberton
Amari General Contractors
more…