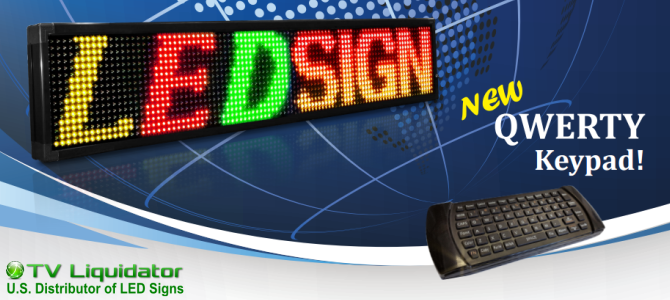 TV Liquidator just launched their brand new March 2016 Scrolling LED Sign Models with a Wireless Remote Keyboard. Their new scrolling signs have been updated with many amazing features unique to TV Liquidator LED Signs. Their new signs also come with a wireless remote keyboard, bringing the entire alphabet to your fingertips. Programming these signs have never been easier with the new remote control that can work up to 70 feet away.
All of their new signs are still the same prices and sizes regardless of the new upgrade. One of the new upgrades to the signs is the ability to achieve a 4 line message on a 36″ tall signs. This option is very beneficial for business owners who want to display more information on their sign as a static message. Also, there are new images, animations, fonts, and attributes already built into the signs. There are also preloaded messages built into the sign that are designed as promotional messages for businesses.
In addition, these signs have new effects like the 3D effect which will make your messages appear in as a 3 dimmensial. Another new addition to the sign is the countless messages you can store into the sign. You can store over 250 messages into the sign and even schedule certain messages to display or not display in the message playlist. Also, there are features such as displaying time and date, change brightness levels and more. All of the signs are made in the USA and come with all of the mounting hardware that you will need, the new wireless remote keyboard and a full 3 year warranty.
There is no sign comparable to the new TV Liquidator LED Signs and no sign with better features. Business owners are excited to get these new signs and customize their messages to fit their advertising needs. Attracting new customers to your business has never been easier with TV Liquidator's new Scrolling LED Sign with Wireless Remote Keyboard.