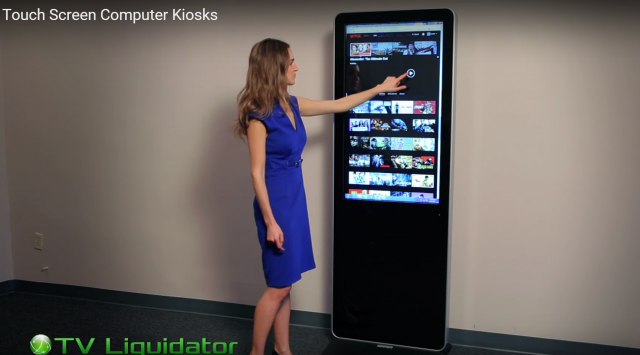 In the new Touch Screen Computer Kiosk Demonstration Video, you can see many examples of the kiosk's features. These kiosks are helping business owners modernize and enhance the image of their businesses. In the beginning of the video you can see how a customer enjoys using the interactive touch screen and can easily browse their favorite websites. These kiosks are similar to a large tablet or smart phone and all kinds of businesses are using them to attract more customers.
One of the kiosk's features can be seen at about 45 seconds into the video; a customer is watching a movie. It is as simple as touching a few buttons or pulling up Netflix to watch your favorite films. Also, 54 seconds into the video you can see a customer streaming her favorite basketball game just as if she were watching the game at home. These features can be done by touching an interactive keyboard that comes onto the screen so you can type in what you want to look at. You can see an example of the touch screen keyboard 1 minute into the video.
Another feature at 1 minute, 20 seconds into the video is of a customer browsing through an online catalog. This is great for retail businesses that have more available products to show. Now the customer can order what they like directly from the kiosk. In addition, you can display a slideshow of your products. You can see an example of a picture slideshow 3 minutes, 50 seconds into the video. A slideshow of products pictures and advertisements can help the customer find and choose their desired product or service. You can also play YouTube videos on the kiosks to show customers demonstration videos of your products or services. You can see a example of a customer watching a YouTube video 4 minutes 5 seconds into the video.
These touch screen computer kiosks can do so much more than just browse the internet and display videos. They have a built-in computer with a Windows operating system. This means you can play video games, access databases, send emails, connect  a camera to have a video conference calls, etc. These kiosks also come with a wireless remote control for a quick and convenient way to control some of the features. You can see of a customer controlling the volume of a video with the remote control at 4 minutes 15 seconds into the video.