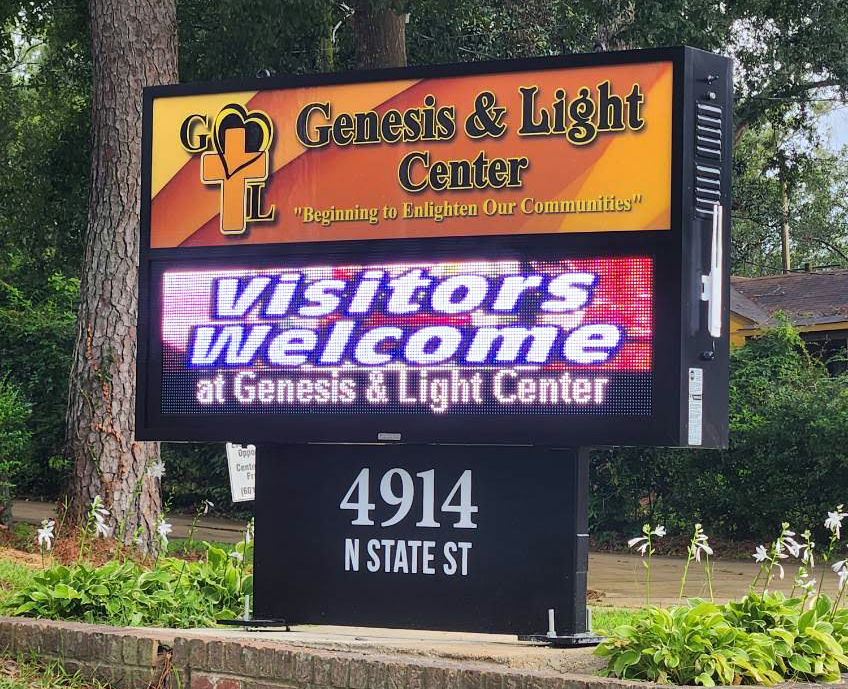 In March of 2023, TV Liquidator was selected by the Genesis and Light Center (G&L) to create a custom all-in-one monument LED sign for their youth community center in Jackson, Mississippi. Founded in 1992 by Albert Wilson, The Genesis and Light Center serves the Georgetown community by addressing specific challenges, providing support, and fostering positive development for local high-risk youth. Faced with the challenge of combating the social and economic problems in the surrounding neighborhoods, Mr. Wilson, a product of a poverty-stricken community himself, dreamed of creating an organization that would empower youth to overcome challenges, achieve their potential, and contribute positively to their communities. Operating as a 501(c)(3) nonprofit agency, G&L saw a need to replace their sign with something more modern and engaging and at the best price possible. After much due-diligence and research, Mr. Wilson decided that partnering with TV Liquidator was the best route to help realize his vision for a new LED sign.
The Genesis and Light community center stands to gain numerous advantages by investing in an LED sign from TV Liquidator. These dynamic and visually captivating displays offer a powerful means of communication and engagement tailored to the preferences of today's tech-savvy generation. LED signs allow youth-centers to effectively convey schedules, event announcements, and important messages in an attention grabbing manner. With the ability to update content in real-time, these signs ensure that the information shared remains relevant and up-to-date, fostering a sense of immediacy and connection with their audience.
Moreover, LED signs provide a platform for showcasing youth achievements, creative expressions, and cultural contributions within the community. By customizing content to align with the center's branding and messaging, LED signs can help reinforce the sense of identity and belonging among young people. Their modern and vibrant display aligns perfectly with the dynamic spirit of youth culture, making the community center a hub of innovation and engagement. In a world where visual communication is increasingly dominant, LED signs enable youth centers to effectively bridge communication gaps, cultivate community involvement, and create an inviting and interactive space that resonates with the young individuals they serve.
Youth community centers play a crucial role in serving communities by addressing their unique needs, fostering inclusivity, and promoting empowerment. Ultimately, LED signs from TV Liquidator can enhance a youth community center's communication strategies, promote engagement, and create an aesthetically appealing and dynamic environment that resonates with all.