TV Liquidator's LED Signs have been helping churches throughout the United States and Canada improve communications with their communities. The rotation of digital messages allows a church to constantly update the important information they would like to display on their sign. The inconveniences of changeable letter signs has been eliminated with this new solution of electronic message signs.
Prospect Harbor United Methodist Church in Hancock, Maine is one of the churches that upgraded their changeable letter sign to one of TV Liquidator's LED signs. The results were so impressive that there is an article published about the signs in the local newspaper 'The Ellsworth American'. One church goer stated, "With technology rapidly evolving, I think it is important for public points of interest to keep up with technology changes and evolve as well. People also do not realize the advantages that a digital sign provides to the church, and how it allows the church to keep up with current trends and stay relevant as a business."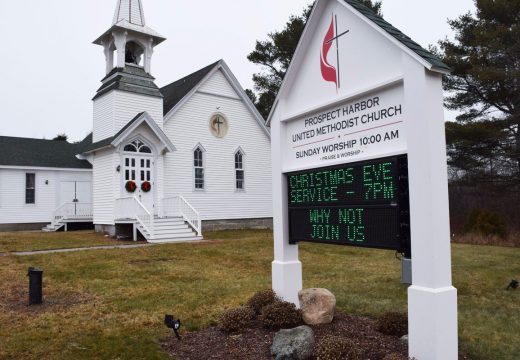 A student from the University of Maine who attends the church had also stated in the article, "I completely agree with what the church has done in terms of its sign. In addition to the advantages that this change will bring about to the community, it will also allow the church to cut costs, make it easier to change its content and better advertise its display to its desired target market. From being enrolled in my mass communications course, I am able to recognize the positives that this sign will bring to the church and how it will help with its business by attracting more consumers. By attracting more customers to the church, this can also attract more people to the town, thus helping the town gain popularity and grow/develop in an economical way."
Mark Sobczak, a Trustee from Prospect Harbor United Methodist Church was also raving about the signs saying, " Your signs came through with flying colors. We received a lot of compliments and inquiries to how we did this."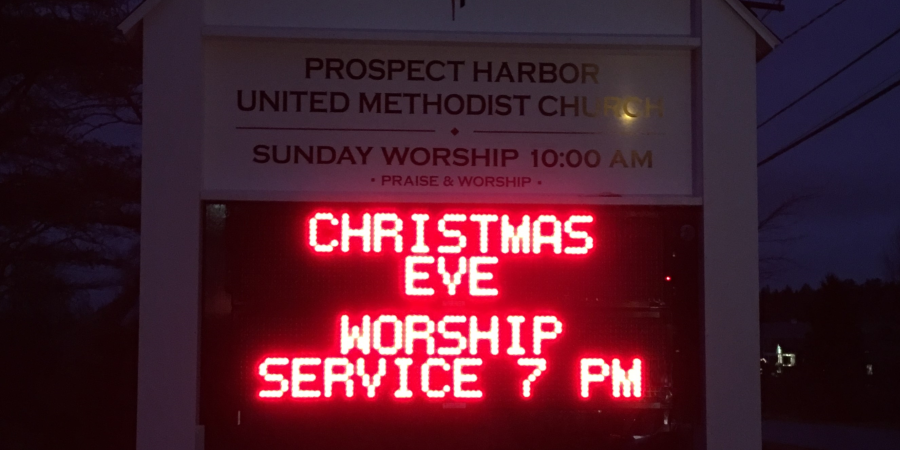 Programmable LED signs do more than just display messages, they can bring a community together with the right information. Communication is key in any type of successful relationship. So why not strengthen your communication with your congregation and make your community stronger. Displaying bible studies times, church events, fundraisers, and other events will help keep everyone informed and draw more people to come in. Eliminate the hassle of constantly trying to update your message one letter at a time with a changeable letter sign and get your church noticed with a digital LED Sign from TV Liquidator.
Editor's Note: Quotations contained in this post were originally published in January 4, 2017 by Jacqueline Weaver on The Ellsworth American.