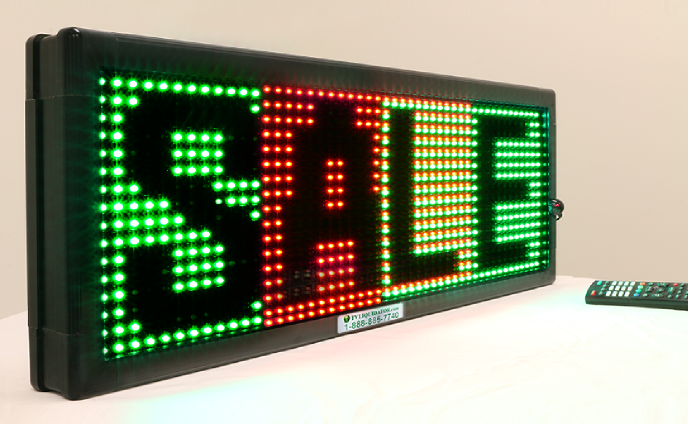 TV Liquidator has swept through the nation giving businesses bright futures and a new way to shine with their scrolling LED signs. Advertising just got easier with customizable LED signs that can be programmed with a wireless remote control. TV Liquidator wants to help make your business grow with the most effective and affordable way to reach your customers.
The LED sign experts at TV Liquidator can help you choose the right size for your business and it only takes two minutes to order over the phone. Not only do they ship their signs for free, but everything you will need is included. All signs come with an instruction manual, the wireless remote control and all of the mounting hardware. Even mounting the signs is easy to do by just sliding the aluminum brackets on the lightweight extruded aluminum frame.
Every type of business can benefit from their customizable LED signs and anyone can program it with a click of a button. Even if you need assistance with programming, TV Liquidator's customer support can help you get your advertisements on your sign in just minutes. Their customer's are thrilled with how easy it is to create new advertisements for their businesses with a TV Liquidator LED Sign.
Their LED signs are very dependable with their free three year warranty and free technical support. There is no need to worry with a sign made in the USA, with a MET Lab certification and UL compliance. TV Liquidator is a leading distributor of scrolling LED signs with the best customer service. Their expertise and quality products can help your business flourish.