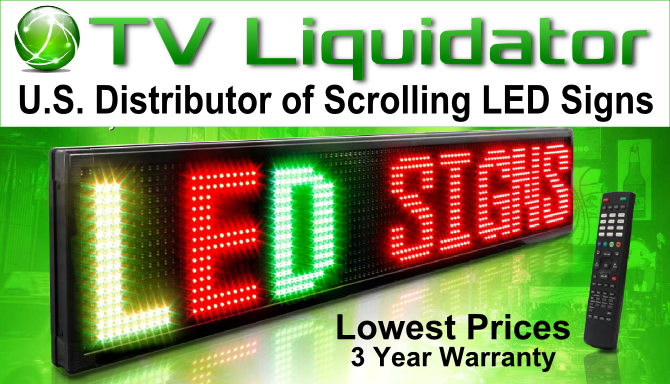 Business owners are looking for the best programmable LED sign to help their businesses flourish and they are all getting them from TV Liquidator. TV Liquidator is the United States distributor of scrolling LED signs. They supply businesses across the nation and Canada with top quality, technologically advanced scrolling LED signs. TV Liquidator sells thousands of signs to sign re-sellers, large corporations, small businesses, government agencies and everything in between.
So why are people choosing TV Liquidator's LED signs over any other LED sign?
Customers feel confident with their TV Liquidator LED Signs knowing that the signs are made in the United States and built with the most technologically advanced parts. Most companies offer a one to three year limited warranty but TV Liquidator offers a free full three year warranty because they know their signs are made to last. Business owners also trust TV Liquidator signs because they know their signs are MET Lab certified, UL compliant and CSA approved. Their signs are built to stand tall during severe weather conditions with and heavy gauge extruded aluminum frame that provides superior strength and prevents oxidation. Other LED signs are made of PVC and cheap steal which is not good for outdoor climates.
TV Liquidator makes their signs with sliding aluminum back panels for quick access to the plug and play components. This allows for easy maintenance, and will prevent rust, cracks, and and sun damage. Not only is the frame extremely durable, but the poly-carbonate grill protects the LEDs, adds strength and heat resistance. Other companies have been cutting corners and only semi weatherproofing their signs by brushing cheap silicone on their signs which will eventually peal. Not TV Liquidator, their signs are 100% weatherproof with a 1/4″ pour of IP 65 rated silicon, and polyurethane sealed corners.
Not only are their signs superior on the outside but the internal components are the best in the industry. All of their signs have the highest grade, UL approved Mean Well Power Supply available. Business owners and installers feel comfortable putting up a TV Liquidator sign knowing that they do not use cheap hazardous parts. Signs using cheap parts have a much shorter life span and are prone to problems. Since TV Liquidator uses top quality parts, their signs can operate 24 hours a day, 7 days a week for 11 years before the sign even begins to dim.
TV Liquidator takes pride in their LED signs. Not only do they have affordable pricing, they include a free custom mounting kit, a wireless remote control and free technical support with every sign. In addition, they provide free programming assistance to help customers make the most of their advertisements. Their mission is to help organizations and businesses grow by providing the highest quality digital signage at the best possible pricing with outstanding customer support.