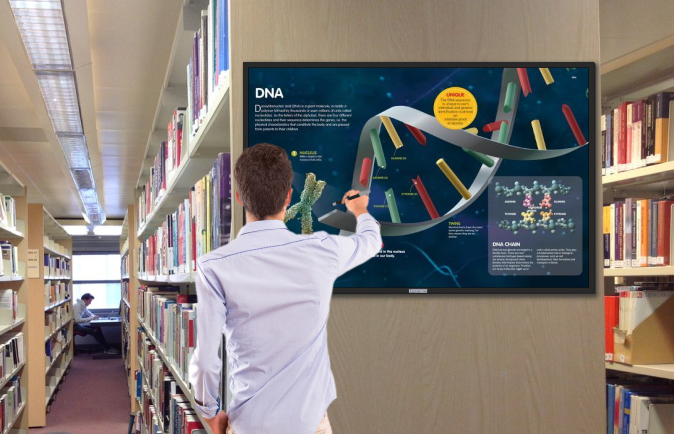 TV Liquidator is a company that is known for providing high-quality digital signage at unbeatable prices. Their focus has been programmable outdoor LED displays. But lately, their fastest-growing category is Touch Screen Computer Kiosks. This product has been changing the dynamic of businesses all across the USA and Canada by increasing customer engagement in many different ways. From order fulfillment in restaurants to wayfinding in museums, these kiosks are changing the way that businesses interact by giving customers something that they can see, hear, and touch.
The Touch Screen Computer Kiosk is one of the most versatile displays on the market. Boasting the power of a full desktop computer, this Kiosk can run virtually any software needed to display your content. Running on 8GB of ram and a 64GB solid-state drive, it has what it takes to keep up with the latest software and programs. The kiosk comes preloaded with a Windows 10 operating system instead of using a cumbersome Android layer that many other products use. Everything is viewed on a 1080p high definition touch screen which allows for amazing picture quality and that physical interaction that people enjoy. A stand-out feature of these kiosks is their ability to integrate peripherals such as cameras for photo booths and card readers for receiving payment using the provided USB ports. Integrating this device into your network is a breeze with its built-in WiFi and Ethernet ports. Whether you are using this at your business, organization, trade show, or your showroom, a TV Liquidator kiosk will take your space to the next level.
TV Liquidator has always been dedicated to ensuring that all businesses, regardless of size, have access to premium digital signage at rock bottom prices. They have recently lowered the price on their 50″ Wall Mount Computer Kiosk to $1985 and that includes free shipping. They have both wall-mounted and floor-standing kiosks available. All of their products come ready to mount straight out of the box and are extremely simple to install. They also have unlimited programming and technical support, which is a gold mine for those of us who aren't as tech-savvy.
Overall, the Touchscreen Computer Kiosk from TV Liquidator is an amazing product with endless possibilities. Give one of their experts a call and they will surely find a solution for you. Call 888-885-7740