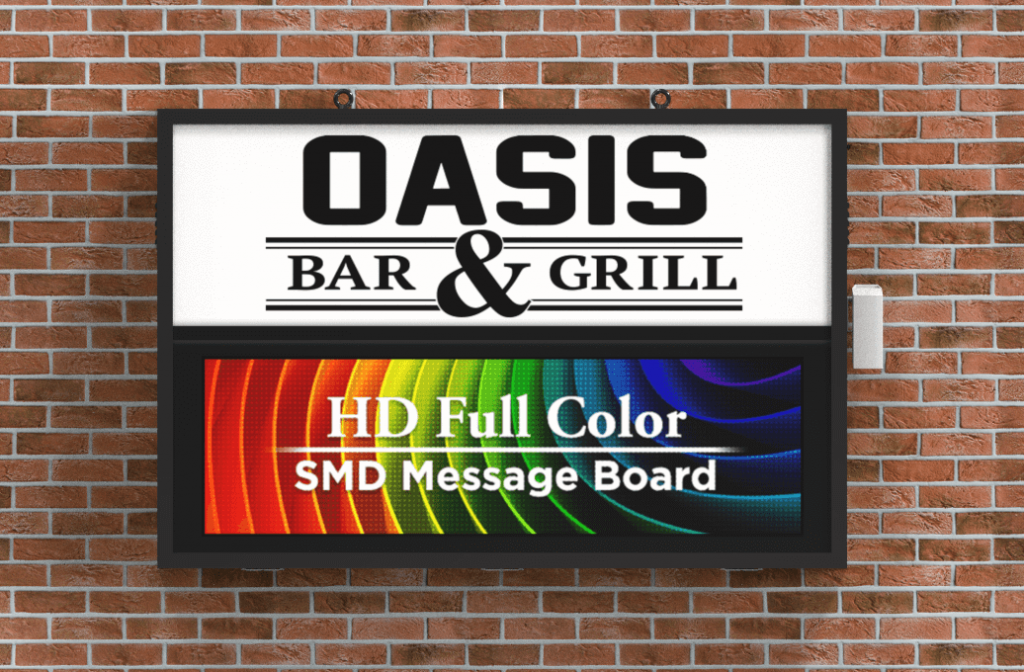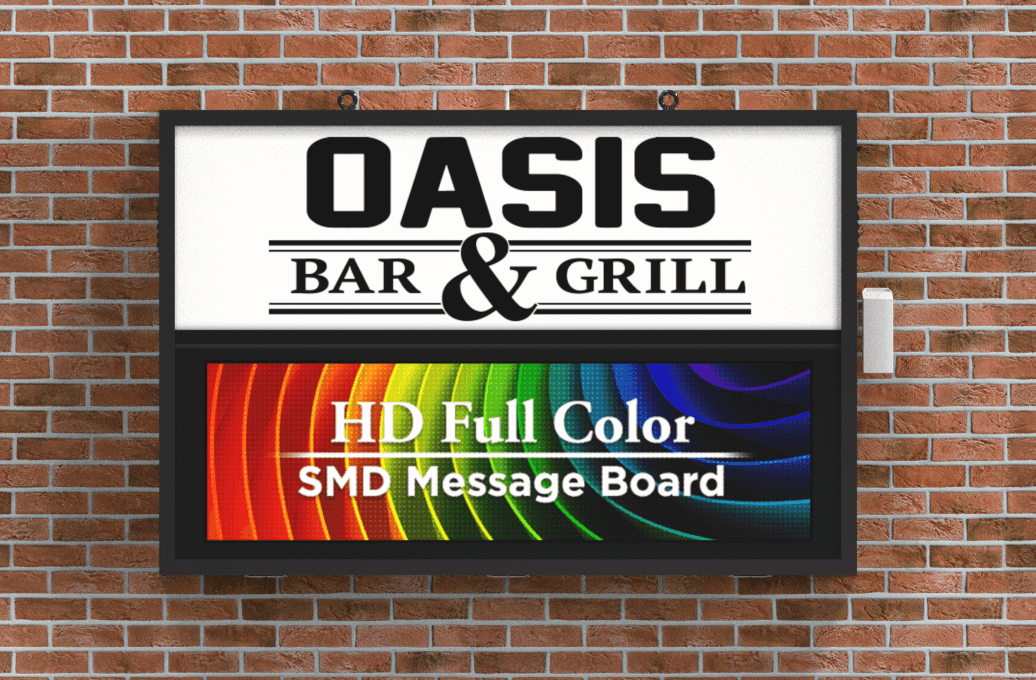 Any business owner knows that your brand is your business. It is extremely important to make sure that the signature iconography and typography of your business are always on display. It helps build a rapport with your customers by providing something tangible that they can connect with. TV Liquidator's All-In-One Wall Mount LED Sign is the perfect advertising solution for businesses to display both their branding and advertisements simultaneously. This wall-mounted sign consists of a printed acrylic sign face (Identification Sign) above a programmable full-color LED sign for your custom messages.
The identification portion of the sign is backlit and utilizes a reverse printing technique to ensure that your custom artwork can stand the test of time and battle the elements. The backlighting is powered by LEDs that are both strong and energy-efficient, costing you less than traditional signs using incandescent bulbs. TV Liquidator will even assist in designing the perfect logo for your business to match the theme and aesthetic you desire.
Below the ID sign, you will have a high-definition full-color LED display rotating your custom messages and advertisements. This comes equipped with a wireless antenna system and easy-to-use software so you can quickly upload your messages, images, and videos. It comes preloaded with a content library that spans all different types of businesses and organizations. TV Liquidator also offers free software training with lifetime programming assistance!
TV Liquidator's All-In-One Wall Mount LED Sign's come with a free 3-year warranty and lifetime support. They take pride in providing an American-made digital signage solution that is UL Compliant, FCC Compliant, MET Certified and CSA approved. Their climate-controlled cabinets are completely weatherproof and are designed for the most extreme conditions. Each sign has an aluminum frame with a solid steel support structure and is finished with a durable powder coat paint. They use high-performance LED modules and the highest grade Meanwell power supplies.
Overall this sign is a great solution for any business. They are engineered, designed, and built right here in the USA and offered at amazing prices that you cannot find anywhere else. This is all backed by world-class support and amazing customer service. Give them a call today to see what options they have for you! 888-885-7740