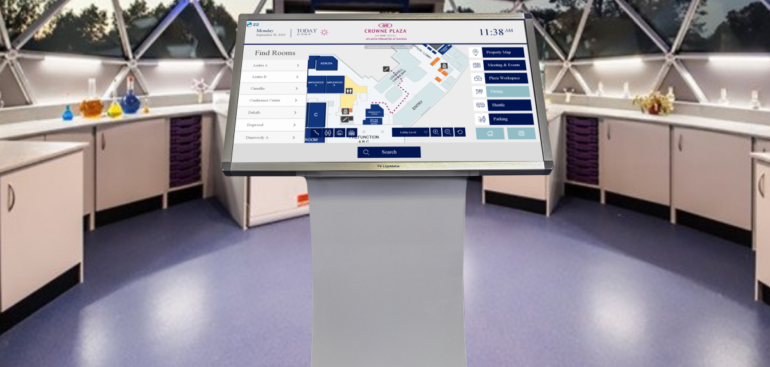 Kiosks are quickly becoming one of the hottest products on the market. Now more than ever it is important to reduce contact and create an efficient customer flow within your business. TV Liquidator is reintroducing their touchscreen computer kiosk with a sleek new pedestal. This design is even more durable than before, and will elevate the look of any store or showroom instantly.
TV Liquidator's new pedestal kiosk is just as powerful and versatile as a desktop computer. It is equipped with 8GB of ram and a 60GB solid state drive, which allows it to keep up with cutting edge software and programs. Windows 10 Professional is already installed into each of their units which will enable you to do virtually anything by adding peripheral equipment. They also have multiple USB ports, allowing you to customize the kiosk to your specific needs by adding peripheral equipment such as card readers or cameras. Any task ranging from taking orders to wayfinding can be completed through one of their kiosks with ease. You can even integrate it into your existing network via ethernet or WiFi. This is all done while displaying content on a beautiful 1080p HD display.
Given the kiosks versatility, it has captured the attention of many small businesses as well as larger corporate chains and government entities. The ability to easily connect, manipulate, and access the kiosks are unparalleled in the signage industry. This also creates an interactive aspect to engage the customer in not only sight and sound, but touch as well. It is an overall powerhouse that can play a significant role in increasing sales and driving customer traffic.